Emerging Cricket was the first to break the news that the Hong Kong T20 Blitz, the event that unearthed Nepal's Sandeep Lamichhane, is to be axed, and that Cricket Hong Kong is to now focus on running just the HK Sixes.
This really disappoints me. Actually, no, it saddens and angers me. Not for me though – I left the country four months ago – but for the cricketing community in Hong Kong. The Blitz was the first initiative in a long time that really galvanized a disparate community and allowed the game to access investment and open never before seen doors. It created a new world class event, with Hong Kong players not only along for the ride, but front and centre.
It can and should be salvaged from the scrap heap.
In 2016, Director of Cricket Charlie Burke, Max Abbott and I came up with the concept for the Blitz, only seven weeks before its inaugural edition, squeezed in during the absolute last weekend we could run it before the ODI-approved Tin Kwong Road Recreation Ground was closed for summer maintenance. Burke is now a Pathways Coach for Cricket Australia after departing CHK in early 2017 and Abbott, a former Fox Sports journalist prior to becoming Marketing & Commercial Director at CHK, is now Media & Communications Manager for the T20 World Cup – he's just returned from a secondment to the ICC Digital team during the recent world cup.
The Blitz's second edition in 2017 was "not just the best domestic T20 tournament in Associate history; it was a bigger spectacle, with a far more appealing cast of overseas players, than many T20 competitions in Full Members" according to Tim Wigmore for The Cricket Paper – and this was just from watching the stream.
12 million people watched in 2017, and ICC head of global development Will Glenwright said the event "reflected the quality and professionalism of a member association that we can – and should – learn from" in a congratulatory letter. It was the first T20 event to mandate Associate players in an overseas player quota.
In earlier years there was sporadic support from certain sponsors for cricket in Hong Kong – generally centred around the Sixes – and despite plans to make Sixes cricket into a global phenomenon in the late noughties it died a death after the 2012 edition, despite the shoestring-budget (economy class and twin shares for all, etc) two-day event running at a profit.
The event's fortunes followed in the unfortunate footsteps of the tenure of the former HKCA Chair Simon Millington (now a close friend) who despite driving the 2012 event to its best result for a long time, had been politely informed by the game's powerbrokers that he would not be supported at the next AGM if he stood for re-election.
The Blitz had (and still has) great franchises.
Simon Millington stepped into the void in 2016 when an owner had to pull out, and despite the short time frame had kit ready, and brought in former Dutch international Micky Swart among others. The Woodworm (HK) Island Warriors were joint champions in the inaugural, rain-shortened year.
The Warriors were handed back to CHK and became Hong Kong Island United, born out of ties opened through ISLU coach Dean Jones (who commentated in year one) with the owners of PSL champions Islamabad United Ali & Amna Naqvi. Both, originally from Lahore, have called Hong Kong home for over fifteen years. HKI United brought in Misbah-ul-Haq, Ian Bell, George Munsey, Samuel Badree and Saeed Ajmal as overseas players.
Hong Kong Cricket Club wicket keeper Rory Caines (above in helmet) had to take time off work at global financial giant BlackRock to play for United, but over his two games he stumped Kiwis Jesse Ryder and James Franklin off Badree and Ajmal, respectively. Rory's father still talks about being able to watch the stream of his son play alongside the game's stars every time they speak.
The amazing Kowloon Cantons. Nine ladies (the Cantonese translation of Kowloon is 'nine dragons') and former HK skipper Rahul Sharma had got together and were first to snap up a franchise in the inaugural year. The Cantons were the ones who put their hands deepest in their pocket, alongside CHK, to get Michael Clarke to Hong Kong. And they – through skipper Scott McKechnie – are the reason that the world came to know who Sandeep Lamichhane was – or at least – why we learnt about him so soon in his young career.
And then of course City Kaitak. First as sponsors of the Cantons, they won the bid for the fifth franchise in year two. Not only were they runners up in their first season, but the group of friends who got together to start this franchise now have a holding company that owns St Kitts & Nevis Patriots in the Caribbean Premier League. (They had also earlier bought a licence for a team in the aborted T20 Global League in South Africa, to boot).
2018 champs Hung Hom JD Jaguars poured their heart and soul in their "Roaring Jags" concept, brought new investors in for 2018 onward, and contracted Daren Sammy on a long term deal. Their passion was rewarded with a maiden title in that third edition and Galaxy Gladiators Lantau, under the stewardship of Kumar Sangakkara, ran the Jags so close in the 2018 finale.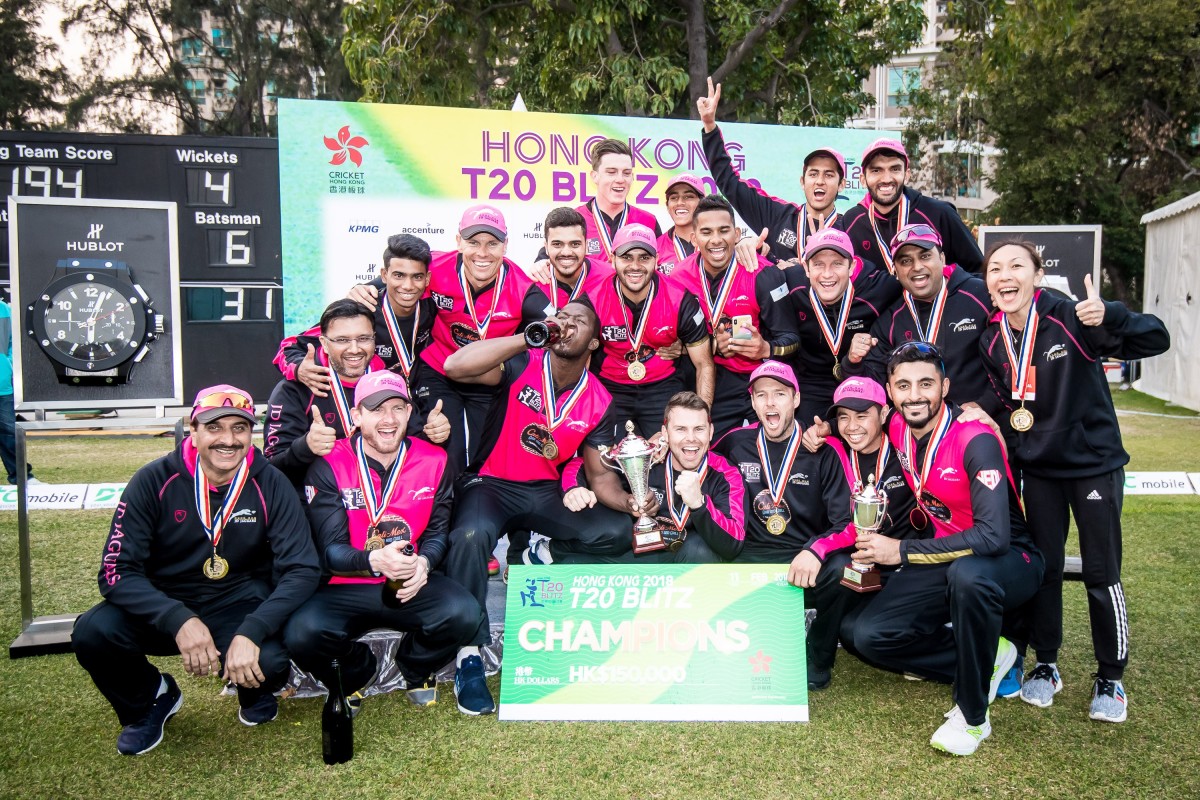 The franchise owners themselves hadn't been told about the Blitz's future, which is ludicrous for an event that roughly tallies up to around US$2.5m in investment across the event and franchises. I'm really at a loss to be honest. And I feel for the Hong Kong players probably most of all, be they in the national team, or in the leagues who were looking forward to it. Whether at the chance of playing, or at the ground watching from close quarters, just across the road from Dermot Reeve's alma mater, KGV School.
There was always a fear that diluting the interest gained for the Blitz by running the Sixes too soon – ie before the Blitz was turning a profit – could come back to bite, but certain elements of Hong Kong cricket's powerbrokers were (and remain) hell bent on having the Sixes back, by hook or by crook.
The decision to continue with the event though, which considering its shorter run time, and with no TV broadcast, must have had lower overall costs – but somehow recorded a similar deficit as the fully-broadcast next-level Blitz, just doesn't make sense at all.
Hong Kong has been at the forefront of short-from sport innovation, be it cricket or rugby. The Sixes, like former Hong Kong World Cup representative Ryan Campbell, were really before their time. And rugby sevens, well, it was HK that made that what it is today; an Olympic sport!
Even if the format was whittled down to 100 balls or T10 or whatever was needed schedule-wise, the Blitz's advantage that was it was 'proper' cricket, and that it was able to fit it in between major tournaments, meaning it could get the likes of Sangakkara, Sammy, Bell and Misbah. These names and more roll off the tongue; they all played T20 cricket in Hong Kong, and loved it.
More importantly though we saw Nizakat Khan as player of the 2018 final and the emergence of Haroon Arshad (main photo), empowered by Kumar Sangakkara, bowling the last over against international cricketers to win the Gladiators' group game against the eventual premiers.
For the 2017 Sixes, we had international teams send A-B sides who smacked a ball around on synthetic turf over two days. Some got into Hong Kong in time for the cocktail party reception, some didn't. Most left the Monday after. While we had a team of Hong Kong players, with seven in the squad, the Blitz had at least six local players in every playing XI of the five franchises. You don't have to be a genius to work out which event has the biggest advantage for Hong Kong cricket.
There is a dream where weekend festival style Sixes events take over the globe, and with a CHK-interest, provide a sound commercial future, similar to HK Rugby and the Sevens. Desperate financial times, however, call for a harsh dose of realism.
A recent news item by Nazvi Careen indicated that the franchise owners are reaching out to CHK, hopeful of a middle-ground solution. I really hope this can happen. There is a contract that stipulates a 2019 Blitz, but surely no parties want anything to play out in the courts. If there was an opportunity for the owners to get together, maybe even to buy (a share of) the event from China Cricket International, the wholly owned events subsidiary of Cricket Hong Kong who owes CHK USD$1.65m (annual report PDF link).
Considering how much CHK/CCIL is struggling for sponsors for the Sixes, one would think all parties are better to be working together on a single project: the Blitz.
And let's not forget, we've seen Yuvraj Singh sign for the Global T20 in Canada. Indian players are now available to be picked up, negotiated the right way. And this fact could just be the edge that the event needs to get that TV rights deal that was on the table when the Cantons had Yusuf Pathan in 2017, a deal that may subsidise broadcast costs and perhaps start paying back the huge deficit to CHK.
This alone would be reason to push harder and to lean towards a franchise T20 event. The BCCI is beyond hesitant at the idea of sending a men's team to the Sixes. If the Blitz was able to get one or two key Indian players it may just be the break the event needs to spruik renewed interest in what was, and remains, a tournament concept that broke the mould for Associates and Full Members alike.
Tim Cutler was CEO of Cricket Hong Kong from May 2015 – April 2017.