Having revisited the fortunes of Associate nations at the first two World Cups in 1975 and 1979 in Part 1 of this five-part series, we move ahead to the next three editions – held in England in 1983, in India and Pakistan in 1987-88, and in Australia and New Zealand in 1991-92. The decade from 1982 to 1992 was notable for the rise of Zimbabwe, who became the leading Associate side in the course of this period.
Zimbabwe became an Associate member of the International Cricket Council in July 1981, a year after attaining independence. Until its independence in April 1980, Zimbabwe was known as Rhodesia, and the Rhodesian team was often a part of the Currie Cup – South Africa's premier domestic tourney. Between independence and becoming an Associate, the national team was known as 'Zimbabwe-Rhodesia'.
1983 – Zimbabwe
Sri Lanka's elevation to Test status in 1981 meant that there were now seven active Test teams (South Africa would remain in isolation for another ten years). Hence, there was a solitary spot up for grabs for Associate nations at the eight-team World Cup. The second edition of the ICC Trophy (World Cup Qualifier) was played in England in 1982, and featured 16 teams divided into two groups of eight each.
Under the captaincy of pace-bowling all-rounder Duncan Fletcher, Zimbabwe dominated their group, and went on to cruise to an eight-wicket win against Bangladesh in the semifinal. They faced a sterner test in the final against Bermuda at Leicester, where they stumbled to 78/3 in a chase of 232 before Andy Pycroft (82) and Craig Hodgson (57) steered them to a five-wicket win with 33 balls remaining.
Zimbabwe's inaugural World Cup match, an opening-day Group B fixture against Australia at Trent Bridge, was also their first ever ODI.
Besides Fletcher, the Zimbabwean outfit for the 1983 World Cup had quite a few players with a good amount of domestic experience, including Pycroft, wicketkeeper-batsman Dave Houghton and Egypt-born off-spinner John Traicos, who had played three Tests for South Africa in 1969-70. Also part of the squad was future England international Graeme Hick, though he did not get a chance to play.
A double round-robin format was adopted this time, through which each team would play every other in their group twice. Zimbabwe's inaugural World Cup match, an opening-day Group B fixture against Australia at Trent Bridge, was also their first ever ODI. The debutants struggled to 94/5 after being put in to bat, at which point the left-handed Fletcher was joined by the promising Kevin Curran.
Fletcher added 70 for the sixth wicket with Curran, followed by another 75* for the seventh wicket with Iain Butchart, to help propel the total to 239/6 after 60 overs. The skipper scored 69* off 84 balls, but he was not done yet. With Australia at 61/0, Fletcher removed Graeme Wood, and duly finished with 4/42 to cap a fine all-round show. Australia was restricted to 226/7, handing Zimbabwe a memorable victory.
Zimbabwe's next two matches did not bring much to cheer, as they went down by five wickets to India and by eight wickets to defending champions West Indies at Leicester and Worcester respectively. Fletcher underlined his worth again against the West Indies with a knock of 71*. Australia got even in the second round with a 32-run win at Southampton, but not before Houghton had scored a stroke-filled 84.
The fifth match at Tunbridge Wells saw Zimbabwe lose by 31 runs despite being in an extremely strong position, thanks to a stunning innings of 175* from Indian captain Kapil Dev. Peter Rawson and Curran (who later scored 73) had India reeling at 17/5, but Kapil had other ideas, as he improved his team's total to 266/8. Zimbabwe's campaign ended with a ten-wicket loss to the West Indies at Edgbaston.
1987 – Zimbabwe
Though the World Cup moved outside England for the first time, the ICC Trophy continued to be played in England. The 1986 edition, again having 16 teams, witnessed Zimbabwe reaffirm their status as the leading Associate, as they won all six group games. They trounced Bermuda by ten wickets in the semifinal, before prevailing by 25 runs over the Netherlands at Lord's to book their World Cup ticket.
While the tournament format was unchanged for the 1987 World Cup, the stipulated number of overs per innings was brought down to 50, thus altering the game's dynamics significantly. Traicos-led Zimbabwe's first match, against New Zealand at Hyderabad (India), was lit by a stellar performance from Houghton in a losing cause. Zimbabwe were 8/1 in a chase of 243, when Houghton came in to bat.
The score kept sliding, and at 104/7, a big defeat loomed. But Houghton did not give up, and found support from Butchart (54), with whom he shared a partnership of 117 – still a World Cup record for the eighth wicket. Houghton was eighth out for 142 from 137 balls, with 13 fours and six sixes. Butchart took the game to the last over, but was run out off the fourth ball, leaving New Zealand victors by just three runs.
The first game was by far the closest Zimbabwe got to victory in the tournament. Lacklustre batting contributed towards a 96-run defeat to Australia at Madras, followed by an eight-wicket drubbing at the hands of India at Bombay. The second round was little better, with Zimbabwe going down by four wickets against New Zealand, by seven wickets against India, and finally by 70 runs against Australia.
1992 – Zimbabwe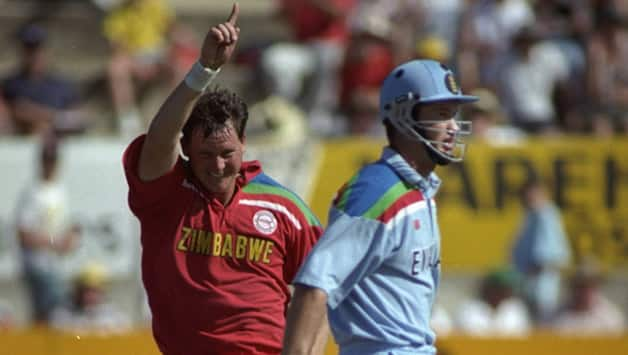 South Africa made their maiden World Cup appearance, which increased the number of teams to nine at a late juncture, leading to a round-robin league format. Twenty months earlier in the Netherlands, Zimbabwe had enjoyed a third successive unbeaten ICC Trophy campaign – they beat Bangladesh by 84 runs in the semifinal and the Netherlands by six wickets in the final to win the 1990 edition.
As was the case in 1987, Zimbabwe, this time captained by Houghton, squandered a golden opportunity of starting the tournament on a winning note. Wicketkeeper-opener Andy Flower celebrated his ODI debut with an unbeaten 115 against Sri Lanka at New Plymouth, and his unbroken fifth-wicket stand of 145 with Andy Waller (83* in just 45 balls) was instrumental in building a total of 312/4.
However, the Sri Lankans remarkably achieved the stiff target to win by three wickets with four balls to spare, thus completing the first successful ODI chase of a 300+ total. Success eluded Zimbabwe as the tournament progressed, as they endured a streak of defeats. At Hobart, they lost to eventual tournament winners Pakistan by 53 runs. At Brisbane, they were subdued by the West Indies by 75 runs.
Eddo Brandes, a chicken farmer by profession, had captain Graham Gooch out leg-before off the first ball OF THE MATCH.
It was no different against New Zealand and India, both of whom dictated terms in rain-hit encounters. Zimbabwe's first ODI against South Africa too produced a lopsided result, as the Proteas chased down a modest target of 164 to win by seven wickets. Back in Hobart, Zimbabwe lost their seventh match to Australia by 128 runs. Their last chance to notch a win was against an in-form England at Albury.
When England bundled Zimbabwe out for 134 after electing to field, an eighth defeat seemed to be on the cards. But paceman Eddo Brandes, a chicken farmer by profession, had captain Graham Gooch out leg-before off the first ball, thus providing the spark his team needed. Brandes (4/21) soon added the scalps of Allan Lamb, Robin Smith and his former schoolmate Hick to leave the score at 43/5.
A sixth-wicket stand of 52 between Neil Fairbrother and Alec Stewart threatened to deny Zimbabwe, before the medium pace of Ali Omarshah, who had earlier dismissed Ian Botham, sent the latter back. Zimbabwe held on for a famous nine-run win, thus adding to their 1983 coup against Australia. They were given Test status in July 1992, and played their first Test in October, against India at Harare.